About Us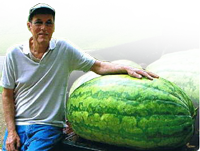 Giant Watermelons is a small seed business run as a hobby. All seeds sold are from the family farm in Hope, Arkansas. The four seed varieties sold are quality seeds that are capable of becoming contest winning fruits. An information sheet with growing instructions and advice is included with every order. This advice comes from over thirty years of experiences in growing big watermelons with my dad.
My dad and I grew lots of giant watermelons together during the 70's, 80's, and 90's to sell on the Hope big watermelon market. We used the same growing techniques the community watermelon growers used earlier when they were establishing the big melon market in Hope. Big melons were grown during those years to sell. Now big watermelons are grown nationwide and most are grown for contest entries. With the current wide interest of gardeners in growing big watermelons, it is logical for me to collect the seeds of the largest watermelons each year and sell them in small lots to contest growers. A few large watermelons in the 125 pound to 185 pound range are still sold at Hope but all of the extra large ones go for seeds.
Giant Watermelons' role in helping gardeners starts with providing gardeners with seeds that can produce winners. Big watermelons don't grow to become large without effort. It takes work on part of the grower. Large varieties of watermelons and cantaloupes are different enough from regular watermelons and regular cantaloupes to make it advisable to read the growing instructions that come with the seeds. If a gardener wants to grow large watermelons or cantaloupes, seeds from Giant Watermelons is a good place to start.
Two methods of ordering are available. A customer can either print off the order form and send it with payment through the mail or the customer can use the electronic order form and pay using PayPal. The PayPal option allows the customer to use a credit card or use their PayPal account.
Winners Guide to Watermelon Festival Giants
Lloyd Bright, Owner